February greetings from the Macica Workshop!

 It has been quite a while since my last post...it has been a busy season! First off, we finally got some winter snow to enjoy here in upstate New York....
We had some great sledding days....
Our youngest son has been enjoying taking "Fluffy" out and making a snow tunnel village for him to hop through.....
and we enjoyed some good winter music too!
Guitars....
In the workshop, I recently finished up a guitar commission for a local friend....
I love this guitar because I used all natural bindings...Mahogany and Black Walnut....
Woodworking....
My son and a friend have been helping me with a commission for twelve hand dovetailed Cello Boxes...
They are now near completion and some beautiful workmanship has gone into these.  These cello boxes can make a nice gift and are a great way to store your cello...
Winter Vacation....
We took a trip to Lancaster, PA and visited the train museum... We felt as though we went back in time to the days when trains were the main means for travel...It's worth a visit if you are in the area...   http://www.rrmuseumpa.org/index.shtml
Mandolins, Mandolins, Mandolins....
Along with teaching a Mandolin Building Class for the Northeast Woodworkers Association, I have been diligently working on a new batch of mandolins; one of them being a commission...  They are coming along nicely and I have recently finished up the binding process of the instruments...
I'll post some more pictures of the process next time....
Guitar Making Intensive – September 5 – December 19, 2017 (Tuesdays 5:30-9:00pm)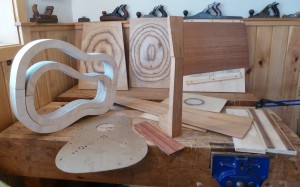 Drawing from over 30 years of fine instrument making, Martin Macica will share his knowledge of the principles and practice of guitar making, leading participants through the process of making their own guitar using hand tools.   This intensive course will cover every aspect of guitar making, including the important hand-cut dovetail neck joint.   Participants will leave with a working knowledge of guitar making, and a handcrafted instrument ready for a lifetime of making music. Please use the registration button below if you are interested in taking this course, which will take place on Tuesday evenings (5:30-9pm) from September 5-December 18.   The cost for the workshop and materials will be $1375, including all materials.  Please, do not hesitate to contact us with any questions. When: September 5 - 19 Open Places: 3 Fees: $1375
Maplewood Center for Common Craft has posted their new Spring classes....  I will be teaching another Guitar Making Intensive class this upcoming September.  Feel free to take a look at the many

"Skill Classes"

that are coming up on the Maplewood website: http://www.maplewoodcraft.com/classes/
Until Next time,

Martin