Hello Everyone,
Just a quick post to remind those interested in taking one of my Guitar Building Classes, this Sunday, August 21st at 11:00 I will be having a Orientation Class at Maplewood Center for Common Craft.  This one-day class is an introduction class to let students know what is all involved with building a guitar from scratch.  This class will also involve introductions to some of the hands-on skills that will be used in the process of guitar building.  Please refer to the Maplewood website for more information about the class or you can call me at my shop 518-695-3029.  Looking forward to seeing you this Sunday.
Upcoming Guitar Building Classes:
Guitar Making Intensive – September 27 – December 8 (Tuesday and Thursdays 5:30-9:00 pm)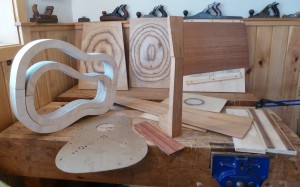 Drawing from over 30 years of fine instrument making, Martin Macica will share his knowledge of the principles and practice of guitar making, leading participants through the process of making their own guitar using hand tools.   This intensive course will cover every aspect of guitar making, including the important hand-cut dovetail neck joint.   Participants will leave with a working knowledge of guitar making, and a handcrafted instrument ready for a lifetime of making music.
Please use the registration button on the website if you are interested in taking this course, which will take place on Tuesday and Thursday evenings (5:30-9:30 pm) from September 27-December 8.   The cost for the workshop and materials will be an estimated $1375, including all materials.  Price may vary slightly based on the number of participants.
Maplewood Center for Common Craft
************************************************************************************************************************************************************
Master Class with Martin Macica: Building a Hand Tooled Guitar
Mondays/Wednesdays
September 26, 2016 to December 14, 2016 — 05:30 PM to 09:30 PM
Instructor: Martin MacicaMember:1800 | Non-Member:2000 | Materials Fee: 575Enrollment Max: 8
 In this hands-on, 30 session, 120 hour course for making a guitar you will complete a Dreadnaught Martin-style guitar from start to finish entirely using hand tools. This will not be a "kit made" guitar, but an instrument you will build from the bottom up, with personalized, detailed instruction. You will leave not only with a better understanding of what goes into making a stringed instrument, but also with a beautiful hand-crafted guitar that you have made. The guitar you will be making is based on the Martin D18 steel string guitar; known as a Dreadnought guitar. The back, neck and sides of this instrument will be made from Mahogany. The top will be made out of Spruce. The head stock will have a rose wood face and the fingerboard and bridge will be made out of ebony. We will use Waverly tuners for the hardware. Taught by master instrument maker Martin Macica, Maker of Fine Stringed Instruments with 35 years' experience making fine violins, mandolins, cellos and guitars. All work will be done in class and all materials provided. Although beginners are welcome, wood working hand tool experience is an asset. Feel free to check out the creative process of instrument making on his website at www.macica.com. NOTE: This class can be paid for by setting up a payment plan. Please call the registrar at (518) 273-0552 x231 for details. Registration for this class ends September 28th at 5pm in order to order materials needed. No classes 12/29, 1/5, 3/29
You can find the registration information for both of these classes on each of their websites above.  Look forward to seeing you in class.
Until next time,
Martin