Greetings from the Macica Workshop! We hope you are all enjoying this season of Spring.  In the workshop, I just had the last day of the Arched Top Guitar Making Class (offered through the Northeast Woodworkers Association).
I do love teaching these classes and I feel this class has been a great success.  My "hats off" to all the men in this class, for what they accomplished is no small thing…
We celebrated our last day with an amazing meal together that Francis, (pictured above) a former chef, had made for us….
Filet Mignon with fixings (beyond words Francis!)…..among some very good potato salad (Thank you Bill!) and John brought this homemade chocolate cake….
We also had a special guest show up to this last class….
My friend and former student who also has made this same Arched Top Guitar a few years back….
These classes feel like "pioneering" classes to me and I look forward to teaching more of these in the future. It is a rewarding feeling to see these students walk away from this class with a handmade instrument that they have created.
Thanks guys for all your hard work and for a great Class!
Future Classes:
*I am hoping to offer a "F5 Mandolin Making Class" (with the option of making a A-style) in the fall through the Northeast Woodworkers Association.  I will keep you posted when I find out more details….
Also: Maplewood Center for Common Craft is offering this guitar class that I will be teaching in the fall.
Guitar Making Intensive – September 27 – December 8 (Tuesday and Thursdays 5:30-9:00 pm)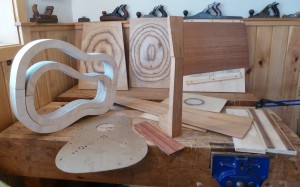 Drawing from over 30 years of fine instrument making, Martin Macica will share his knowledge of the principles and practice of guitar making, leading participants through the process of making their own guitar using hand tools.   This intensive course will cover every aspect of guitar making, including the important hand-cut dovetail neck joint.   Participants will leave with a working knowledge of guitar making, and a handcrafted instrument ready for a lifetime of making music.
Please use the registration button below if you are interested in taking this course, which will take place on Tuesday and Thursday evenings (5:30-9pm) from September 27-December 8.   The cost for the workshop and materials will be an estimated $1375, including all materials.  Price may vary slightly based on the number of participants.
When: September 27 – 8
Open Places: 4
Fees: $1375
Macica Website News: 
We have now added a new tab to our website home page entitled, "For Sale".  If you click on this tab, it will bring you to a page of instruments that are presently for sale "in shop".  You may also purchase these instruments directly off of the website now as well.
There is a "sound bite" and photos included on this page for each instrument for sale. Feel free to click on the link below or on the tab on our website.
Other News:
Occasionally my brother-in-law Kris (you can check out his website at: http://www.customwoodcarvings.com/) refers customers to us that are looking for smaller scale carvings and woodworking. My son, Josiah and I worked on this project together.  Josiah carved the cowboy hats and I made the boxes. The customer had ordered these for an upcoming wedding. Here are some pictures of the finished commission….
It was a fun project to work on and sometimes it's nice to change it up a bit and work on something a little different in the shop.
Well, that's all for this post.
Until next time,
Martin